E os giveaways voltaram *-* Depois do enorme sucesso da gold cuff, eu e a loja Le Freak Chic juntamo-nos de novo para vos trazer outro giveaway.
Quem é quer um colar lindíssimo desenhado pela Nicole Richie?
Para isso só precisas de arrecadar o máximo de pontos que conseguires, seres fã da página de facebook da Le Freak Chic e do blog Pedras&Calhaus é obrigatório, o resto dos pontos podes ir arrecadando diariamente.
Divirtam-se e boa sorte
♥
ps: Não precisas de ter um blog para participar
♥
Today i present to you a new giveaway. If you want to win a Nicole Richie Necklace you just have to
enter some information bellow. Somethings you can enter everyday, so don't forget to come here for a chance to win. Enjoy!
♥
ps: You don't need to have a blog to enter this giveaway*
Banner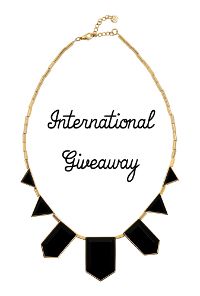 a Rafflecopter giveaway
xoxo